Our employees are the basis of our future sustainable growth. Employee Wellbeing and Safety are two of our "Building Blocks for Success" and we continuously strive to enhance the quality of life in our local communities. For our employees, we invest in training programs as well as in developing a strong performance-based culture. We also place a high value on occupational safety and aim to eliminate any workplace incidents. Our commitment also includes our activities comprising different sponsorships and support of foundations.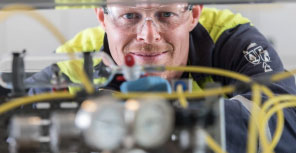 Our 1,750 employees are the backbone of our success and play a vital role in our efforts to create a more sustainable world through our production of materials for the 21st century. By working as One Rain Carbon, we can achieve our corporate goals.
Rain Carbon strives to achieve growth by motivating our employees to leverage their abilities to the greatest extent possible by leading active and fulfilling lives. We invest in developing a strong performance-based culture that thrives on go-getters and incubates future leaders.
Safety
Safety is at the foundation of all of our activities, which is why it is one of our "Building Blocks for Success." We strive to protect the health and safety of all who are a part of our operations, live in the communities where we operate or use our products. We are also committed to conducting business with respect and care for the environment.
Our goal is to have a systematic approach to safety, health and environmental (SHE) management designed to ensure compliance with the law, achieve our commitments to SHE, and eliminate all injuries, occupational illnesses, unsafe practices and environmental incidents resulting from our activities.
We strive for world-class operating excellence by integrating our SHE principles throughout our businesses with a focus on continuous improvement. Accordingly, we have included SHE performance in the appraisal of our staff, and they are rewarded accordingly.
Global safety-management system
Safety statistics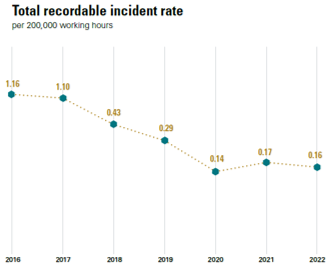 Today, our safety performance exceeds the industry benchmark (U.S. Bureau of Labor Statistics) to be comparable with best-in-class companies. Looking ahead, we aim to build a more mature and sustainable safety culture that will allow us to increase productivity and operational discipline and facilitate highly competitive organic growth. Our safety culture is centrally driven, with a global SHE organization steering our company-wide programs.
Professional Development
In 2019, we completed the first Global Rain Carbon Leadership training program with 16 participants from 10 locations. We also organized regional leadership development programs in the United States and Canada, Germany and Belgium. These programs were interrupted during the height of the COVID pandemic, but in 2022 we resumed in-person training with 10 employees from Belgium, India, Germany and the United States participating in a Global Leadership Training module on Intercultural Management. During the year, we also conducted regional training sessions in North America and Europe, as well as a short course on training leaders to train in India.
Employees can only develop when they receive regular feedback. We understand that it is important for us to discuss the performance of our employees and to show appreciation for their contribution to the success of the company. In January and February, we have performance-evaluation discussions with our employees that includes an evaluation of four performance-based dimensions (conduct, knowledge and skills, management skills and work results) and agreement on personal-development measures.
Our learning-management system plays an active role in standardizing and digitizing processes that are crucial to various work functions, such as administration, documentation, tracking and reporting of the learning-and-development and training programs for employees.

We are aware of how our operations impact our stakeholders, especially the local communities where we have offices and manufacturing facilities. Rain Carbon supports our local communities, by promoting social programs and community participation. Our employees regularly donate their personal time to community activities, and the company encourages their participation with financial support, over and above the contributions we provide through established government and private programs.
Our CSR initiatives are an important catalyst in our broader commitment to enhance value for our entire stakeholder fraternity.
Pragnya Priya Foundation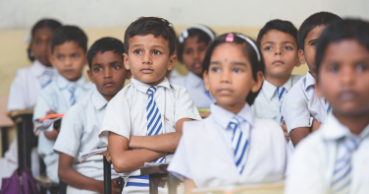 Established in 2012, the Pragnya Priya Foundation was born of our desire to empower underprivileged and underserved communities in India with a focused, hands-on and grassroots-driven approach toward education and health. It helps rural communities to join the mainstream and reap the benefits of sustainable development.
RÜTGERS Foundation
Founded in 1999, the RÜTGERS Foundation aims to make science, technology and computer science lessons tangible and interesting in schools. The RÜTGERS Foundation supports school groups and project teams and enables schoolchildren to have attractive experiences in science and research. In more than 20 years, the foundation has funded over 400 different school projects, reaching more than 13,000 young people. During this period, more than 1.65 million euros in subsidies were distributed.
To do justice to the dynamic developments in the framework of schools and universities, the foundation has increasingly promoted scientific networks and supported the interdisciplinary exchange of science. In addition, the foundation facilitates the transition of young people from pre-college education to universities and professional opportunites by awarding scholarships. The close cooperation with teachers has recently led to long-term cooperation with schools that has resulted in a pronounced scientific focus and enhanced teaching.
Activities in North America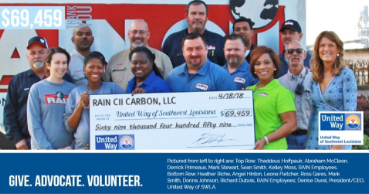 Activities in North America In North America we participate in different CSR activities including partnering with local schools to help drive STEM — science, technology, engineering and math — education. During 2019, our employees donated approximately 1,000 hours to support local food banks, serve as volunteer coaches, help construct Habitat for Humanity homes and more.
In addition, for more than two decades through a matching program with our employees, we have contributed approximately US$1.5 million to local United Way chapters, supporting a range of initiatives for those in need in communities near our production facilities and offices.
Information for residents
The safety of residents near our plants is our top priority, as is the safety of our employees. For residents and the communities near some of our production sites, we are required to make certain reporting information available to the public. Read More