At Rain Carbon, our pledge to be a "Resourceful, Reliable and Responsible" company is rooted in our commitment to sustainability, safety, and enhancing the quality of life in the communities where we operate and for society in general.
Global challenges such as climate change, scarcity of resources and the desire for decarbonization are dominant themes in many parts of the world and public debate. With more than 150 years of industry experience and an eye on these global challenges, Rain Carbon is committed to conducting business in an environmentally and socially responsible manner.
Resource efficiency and carbon productivity are foundations of our business model. Rather than entirely relying on a fresh supply of raw materials, our carbon- and coal tar-based materials begin as the byproducts of other industries. We use science and engineering to transform them into essential ingredients for a wide range of industrial processes and products, and by extracting additional value from these industrial byproducts rather than letting them go to waste or be used in less efficient ways – what we call "upcycling" – we are producing critical raw materials for goods that we use every day and to meet growing societal demand for cleaner, lighter and faster products.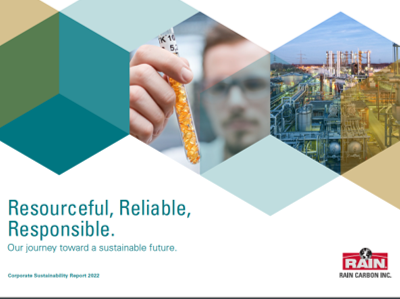 Please click on the image above to view our first publicly available sustainability report.
Our Sustainability Vision
Guided by our corporate vision to be the world's most trusted and resourceful provider of diversified carbon products and advanced materials, Rain Carbon is committed to a sustainable environment and maintaining the ecological, social and economic well-being of future generations.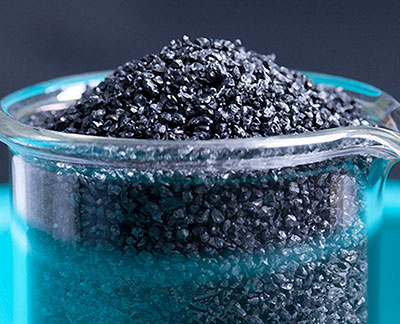 We strive to follow the triple bottom-line approach of "People, Planet and Profit" to equally consider the economic, environmental, and social impact of our activities
We aim to maximize the positive and minimize the negative environmental and social impacts arising from our operations
We strive to operate responsibly in alignment with universal principles of human rights, labor, environmental and anti-corruption standards
People, Planet and Profit
Our commitment to sustainability is built on a triple bottom-line approach of "People, Planet and Profit" that we believe will allow us to maximize the positive and minimize the negative environmental and social impacts arising from our operations. This approach includes: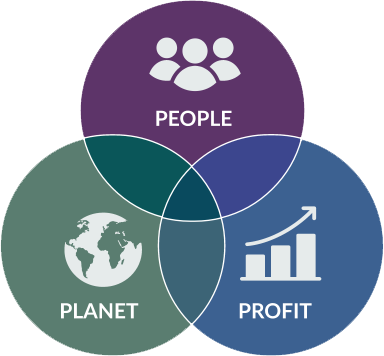 Responsible use of resources

Activities to minimize environmental impacts

Safety and employee well-being

Enhancing the quality of life in our local communities
To bring our triple bottom-line approach of "People, Planet and Profit" to life, sustainability is integrated into our businesses and organizational systems. The management of sustainability-related topics is positioned within Rain Carbon's corporate Legal department. We have also created a sustainability organizational structure to ensure cohesive and systematic global management of the development and execution of sustainability strategies.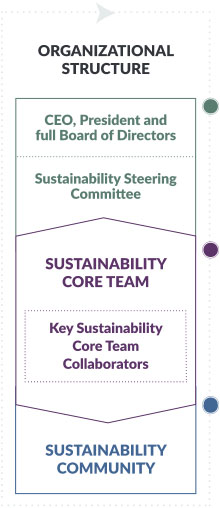 Sustainability Steering Committee (SSC)
The SSC has overall responsibility for sustainability at Rain Carbon and is overseen by the Board of Directors and the company's Chief Executive Officer and President. The SSC comprises the Business Unit leaders and the head of Global Finance, and the Chief Legal Officer serves as SSC chair. The SSC approves major directions for corporate positioning and defines and monitors the sustainability strategy, roadmap and targets for Rain Carbon.
Sustainability Core Team (SCT)
The SCT is a cross-divisional and cross-regional team supporting the SSC to drive the implementation of sustainability-related decisions and initiatives. The SCT defines strategic and roadmap proposals as well as concepts and tools for implementing sustainability activities. The SCT connects with key collaborators across the company and the sustainability community to coordinate the implementation of approved sustainability initiatives and performance measures.
Sustainability Community
Our sustainability community comprises Rain Carbon technical experts and site representatives who support in the annual collection of sustainability data. The company also envisions participation by representatives from the communities where we operate on cross-functional task forces.

Our voluntary participation in sustainability standards and certification efforts underlines our commitment. Sustainability standards enable us to highlight our performance concerning environmental, social and governance issues based on an independent evaluation.
The EcoVadis Corporate Social Responsibility (CSR) assessment is an evaluation of how well a company has integrated the principles of CSR into its business and management system (environmental, labor practices and human rights, health and safety, fair business practices and sustainable procurement issues). Rain Carbon currently has EcoVadis CSR ratings for our Zelzate facility in Belgium, Castrop-Rauxel and Duisburg plants in Germany, and our calcination facilities in the United States.
EcoVadis CSR Gold Rating: Zelzate, Belgium, Castrop-Rauxel and Duisburg, Germany
EcoVadis CSR Silver Rating: U.S. calcination facilities
Key Industry Memberships
Rain Carbon is an active member of multiple industry associations, which enables us to discuss and debate key issues with peer companies, customers and other member organizations. Industry groups, therefore, are an important platform for Rain Carbon to engage with stakeholders on a range of topics including sustainability. Our engagement in industry associations also allows us to highlight the important contributions our products make to society and our customers' efforts to reduce their environmental footprint.